Small Chemical Waste (KCA in Dutch) is household waste containing chemicals that can be harmful to health and the environment, like lead, mercury or organic solvents. Batteries, aerosols, gasoline and turpentine are examples of small chemical waste.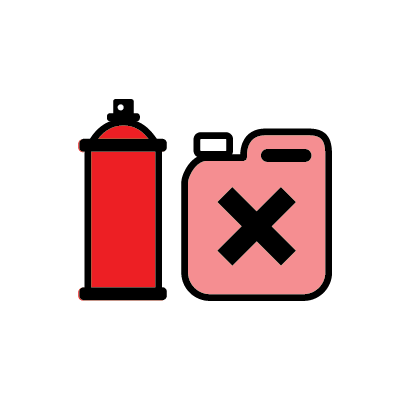 How is the waste collected?
You can collect small chemical waste in your chemical waste container (chemobox in Dutch) or, if you do not have one, in another suitable container.
You can either take your chemical waste to one of the waste recycling points or arrange for Cure to collect it. This is free of charge. Call the Cure customer contact center on 040 - 2500 130 to make an appointment.
Small Chemical Waste:
Turn in your small chemical waste in their original packaging 
Shops often have special boxes for small chemical waste 
Fluorescent tubes, nail polish and medicines also belong to small chemical waste
What qualifies as small chemical waste?
Yes
Households: batteries, low-energy light bulbs, strip lights (and sun bed lamps), liquid drain cleaner, lamp oil, kerosene, pesticides/ herbicides/insecticides
Medicine cabinet: medicines, mercury thermometers, injection needles
DIY: paint, varnish, stain and wood preservation agents, products used when painting such as turpentine, thinner, paint stripper, paintbrush cleaner, paintbrush softener and benzene, mercury switches (e.g. non-digital thermostat controls)
Hobby: photo fixer, photo developing agents, etching fluids (e.g. nitric acid or sulfuric acid), hydrochloric acid
Transport: car batteries, gasoline, motor oil, used oil, brake fluid, oil filters
Tip!
"Store your small chemical waste in a special box and turn it in at the waste recycling point in your city. The special box is available from our Customer Service."