Paper and cardboard are collected separately, so that they can be recycled into, for example, newspaper, toilet paper, packaging materials, etc.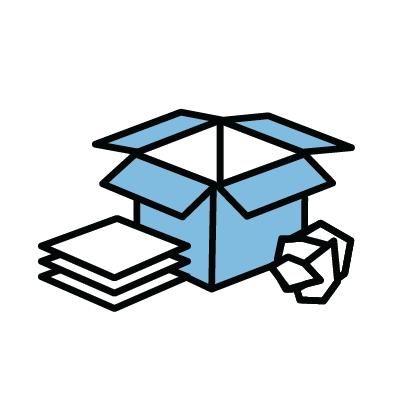 How is the waste collected?
Depending on where you live, the waste paper will be collected in a (underground) container or it needs to be placed on the sideway  before 7.30h on the day it will be collected.
Bundle it or put it in boxes (not in plastic bags).
Check your waste collection schedule  for collection dates and times. 
Paper:
paper waste can be recycled into new paper

a quarter of all household waste is made of paper and cardboard

milk and juices cartons do NOT belong to paper waste

bundle the paper waste or put it in boxes
Yes
Newspapers and advertising folders
Copying paper, writing paper and drawing paper, telephone directories
Envelopes
Gift-wraps
Egg boxes
Paper bags and cardboard boxes
Cardboard and paper packaging
No
Wallpaper
Vinyl
Milk and juice cartons
Plasticized paper
Sanitary paper products like paper towels, toilet paper and diapers
Contaminated paper (e.g. pizza boxes, freezer boxes, used coffee filters)
Photos
Tip!
"Advertising leaflets and door-to-door papers provide a lot of paper waste. If you do not want to receive unaddressed mail, then paste a no / yes sticker or no / no sticker on your mailbox."