Bulky waste is also a collective name for bulky household waste. This waste is often large and does not fit in a mini container/grey bin or in an underground container for residual waste. Bulky waste usually consists of composite materials and cannot be disposed of in the normal way via household waste. Consider, for example, sofas, household goods and other pieces of furniture.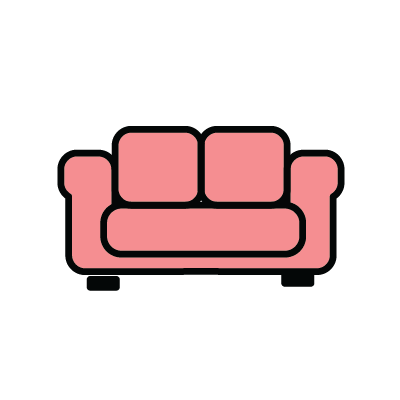 How to dispose your bulky household waste
Bulky household waste can be taken to the waste recycling point (milieustraat in Dutch) of your municipality. You can also pay to let Cure pick up the waste from your home. You can use the Cure Webshop (only for residents of Eindhoven) or contact our Cure customer service for the rates and conditions per municipality.
Note: it should certainly not be next to (underground) containers at apartment complexes or shopping centres! You can even be fined if you put such waste on the street next to containers.
Bulky household waste:
is waste that is too big or heavy for a garbage bag or container
Bundle different types of waste before going to a waste recycling point
Many of bulky waste materials can be reused
What happens to the waste?
Bulky residual waste is difficult to recycle because it consists of different composite materials. You can further sort this bulky waste at Cure's waste recycling points into, for example, mattresses, white and brown goods and upholstered furniture. We have a dismantling hall at our waste recycling point in Geldrop-Mierlo. There, we sort this waste flow even further into different waste flows that can be recycled. Consider, for example, wood, metal and fabrics. These materials are released when, for example, disassembling a sofa. Due to our dismantling hall, we ensure that more materials become available for reuse and that less waste is incinerated. Items and materials that can be reused go to recycling companies. The remainder is incinerated in a waste-to-energy plant where it produces electricity and heat.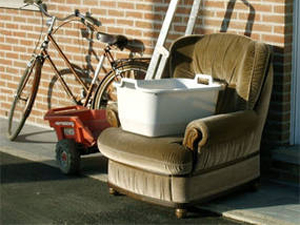 What qualifies as bulky household waste?
Yes
Upholstered furniture parts
No
Small Chemical Waste (KCA)
Asbestos
Batteries (fire hazard!)
Organic material
White and brown goods (separate waste flow)
Mattresses (separate waste flow)
Tip!
Do not throw away broken items immediately, but try to repair them. Things you don't need anymore but are still in good condition, can go to a thrift store.
Always up to date on your waste collection!
In the Cure Afval app, you can see when and what kind of waste is collected in your neighbourhood, and you can automatically receive a notification when the waste is collected. You can also consult the waste calendar online on www.mijnafvalwijzer.nl.