Organic waste (GFT in Dutch) is vegetable, fruit and garden waste. This involves natural or organic waste such as fruit peels, vegetable leftovers, weeds and tea bags.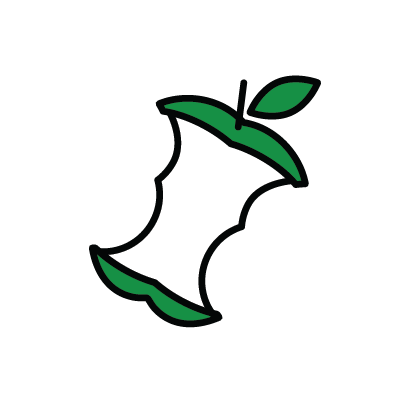 How is the waste collected?
Household waste and organic kitchen and garden waste are gathered separately in small carts (the grey cart and the green cart) and then collected from outside family homes at set times.
For people living in apartments
The system is slightly different for people living in apartments: their organic waste is not gathered separately, but is disposed together with their household waste, either in bags or in underground containers. To use the underground containers, you need a citypass. 
Organic waste:
use the green container for your organic waste

tea bags and (fish) bones are also organic waste!

compost is made from vegetable, fruit and garden waste
What qualifies as organic waste?
Yes
Peelings and remains of vegetables, fruit and potatoes
Residues of cooked food, such as meat and fish residues (including bones and bones)
Peanut and nut shells
Eggshells
Tea bags and filters with coffee grounds
Bread and cheese crusts (without plastic)
Weeds, small pruning waste, mowed grass and leaves
Cut flowers and house plants
Manure from small pets (rabbits, hamsters)

 
No
Coffee pods
Soil
Sod
Dog poo, cat poo, horse manure etc.
Plant pots
(degradable) plastic
Cat litter pellets (including the ones with an ECO quality mark)
Diapers
Tip!
"Do not throw any moist waste in the container. Allow mown grass to dry for a day."