Only the cadavers of deceased pets and companion animals may be brought to the waste recycling point, so for example a dog, cat, guinea pig, etc. However, you can also take your pet to the vet or have it cremated or buried in an animal cemetery. You can also donate your pet to the university via an animal donor codicil.
Farm animals and hobby animals, such as a horse, sheep or goat, must be registered at Rendac in Son. They will then pick up the cadaver at your home.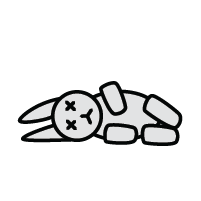 What qualifies as a cadaver?
Yes
Pets and companion animals, such as dog, cat, hamster, guinea pig, rabbit
No
Farm and hobby animals, such as horse, sheep, goat
Always up to date on your waste collection!
In the Cure Afval app, you can see when and what kind of waste is collected in your neighbourhood, and you can automatically receive a notification when the waste is collected. You can also consult the waste calendar online on www.mijnafvalwijzer.nl.