Household waste is waste that can not be separated for reuse or recycling like cigarettes, rubber and cork. Waste types that you can separate, such as organic waste, glass and paper, are not household waste.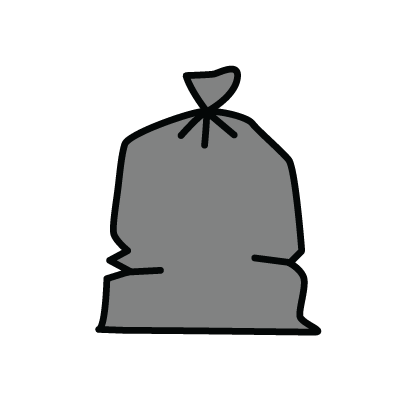 How is the waste collected?
Household waste and organic kitchen and garden waste are gathered separately in small carts (the grey cart and the green cart) and then collected from outside family homes at set times.
For people living in apartments
The system is slightly different for people living in apartments: their organic waste is not gathered separately, but is disposed together with their household waste, either in bags or in underground containers. To use the underground containers, you need a citypass. 
Household waste:
is waste that can not be separated for reuse and recycling
needs to be put in the grey cart of underground container
you can check the waste collection schedule to see when the waste will be collected  
What qualifies as household waste?
Yes
Cat litter 
Feces of dogs and cats
Diapers (n Geldrop-Mierlo, these must go in the diaper containers)
Cigarettes and ash
Sanitary towels
Rubber
Cork
Electrical wiring
No
Everything that is collected separately like:
Paper
Glass
Plastic of PBD
Textiles
Construction and demolition waste
Organic waste (except households that use underground containers)
Tip!
"Put household waste in sealed bags before depositing it in the (underground) container to avoid odour nuisance and to keep the container clean."