We collect 3 different types of glass at the waste recycling point. Glass is 100% recyclable and it is, therefore, important that you separate it from other waste.
---
Glass waste refers to glass packaging, such as an empty jar of peanut butter, pasta sauces, wine bottles and perfume bottles. Glass is 100% recyclable and therefore it is important to separate it from other waste.
Large glass items and sheets of glass, such as window panes, qualify as waste and should be taken to one of the waste recycling points.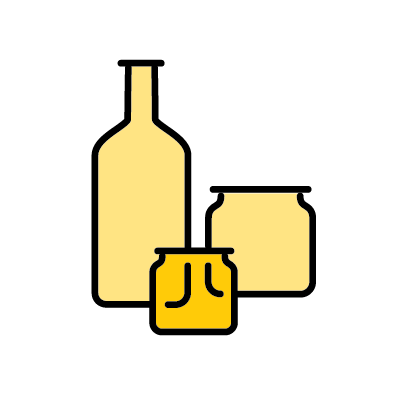 Where can you deposit the glass waste?
You can deposit this glass at special (underground) bottle banks that you can find at shopping centres and large supermarkets in your city. There, you separate the glass into three different colours: green, brown and white (transparent). Are you visually impaired or do you have doubts about the colour of the glass? Then take the glass to the waste recycling point where the staff can help you with the separation.
Glass:
you may hand in glass with lid and leftovers

it can be deposit in bottle banks
glass can be reused endlessly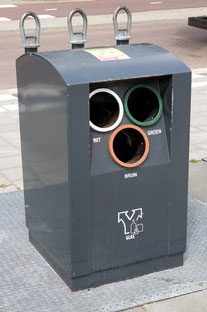 What qualifies as glass waste?
Yes
Glass packaging of beverages, such as wine and beer bottles
Glassware of food, such as peanut butter jars, pasta sauce and vegetables
Glass packaging of cosmetics, such as foundation and creams
Glass packaging of medicines
'Small glass', like pots of baby food and herbs
Glass deodorant rollers
Perfume bottles
No
Oven dishes
Porcelain and pottery
Flat glass
(Broken) mirrors
Crystal
Lamps 
Car windows
Tip!
"Collect your glass and take it with you when you go shopping. You don't have to clean the glass packaging."
Always up to date on your waste collection!
In the Cure Afval app, you can see when and what kind of waste is collected in your neighbourhood, and you can automatically receive a notification when the waste is collected. You can also consult the waste calendar online on www.mijnafvalwijzer.nl.