Information 
Free for residents of Eindhoven
Admission only with your personal city pass containing a passport photo
Separating waste at the waste recycling points is mandatory
Asbestos needs be registered in advance
Opening hours
Monday, Wednesday and Friday: 13.00 to 19.00
Tuesday and Thursday: 13.00 to 17.00
Saturday: 10.00 to 17.00
Sunday closed
Webcam milieustraten Eindhoven
Check out live images of the queue at the waste recycling points.
Go to the webcams
Waste recycling points free of charge for residents of Eindhoven
Your city pass gives you free access to the waste recycling points in Eindhoven. If you do not have a city pass but still wish to take waste to a waste recycling point in Eindhoven, you should take it to the Lodewijkstraat. In this case business rates and rules will apply.
If you want to bring bulky house waste to a waste recycling point on behalf of a family member who lives in Eindhoven, please contact Customer Service by phone on 14 040 (option 'afval').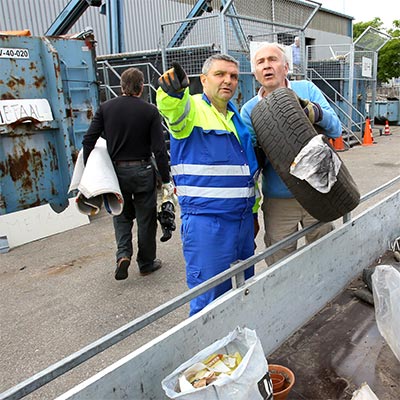 Closed in 2017
17-04-2017, 2nd day of Easter
27-04-2017, Kingsday
25-05-2017, Ascension day
05-06-2017, 2nd day of Pentecost
25-12-2017, Christmas
26-12-2017, Christmas
Big Bags and stickers
If you are a resident of Eindhoven, bulky household can also be picked up from your house. You can use a Big Bag or sticker. The stickers are used for large pieces of furniture, like a sofa or a bed (one sticker per item). The Big Bags are suitable for all kinds of bulky household waste, except hazardous waste, tires, asbestos and sharp glass. Both are limited to a total weight of 1000 kg.

The Big Bags and Stickers are available at the customer service department of the Cure head office, Lodewijkstraat 3 Eindhoven. The office is open Monday till Friday from 08.30 to 17.00. Make sure you bring your city pass and keep in mind that you can only pay by card.
Pickup service
Call 14040 (option 1) to make an appointment for the Big Bags or stickered items to be picked up.
Rates:
Big Bag of 1m3 €40
Big Bag of 1,5 m3 €60
Item with a sticker €10