Plastic waste refers to plastic packaging like empty bags, bags, bottles, cups and plastic covers. It does not include old toys, videotapes, broken garden chairs and other plastic items. This kind of plastic waste is classified as household waste (garden chairs and other large plastic items are bulky household waste).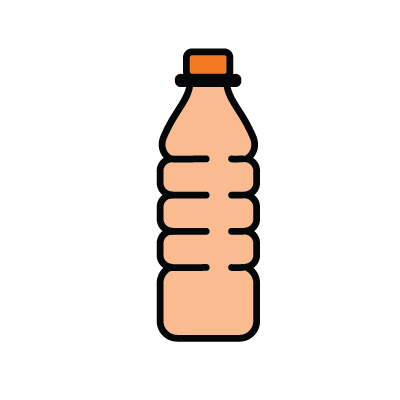 Where can you deposit plastic packaging material?
You will find recycling dumpsters for plastics located across the city, near shopping centres and supermarkets in the vicinity of bottle banks. You can also deposit plastic packaging materials at one of the waste recycling points.
Plastic:
there are special containers for plastic packaging

will be processed into new products

the packages must be empty
What qualifies as plastic waste?
Yes
Plastic bags and bread-, pasta and rice bags
Candy bags
Wraps from magazines and advertising materials
Plastic trays/bags used for vegetables, fruit and salads
Yoghurt, cream and ice cream pots
Lids from pots of peanut butter, chocolate spread, etc.
Laundry detergent and cleaning product bottles
Oil and vinegar bottles
Bottles used for soft drinks, water and liquid dairy products
Shampoo, shower gel, hand soap and bath foam bottles and similar
No
Plastic packaging with content
Chips packs
Hard plastic utensils (toys, videotapes, buckets and watering cans)
Cardboard milk and juice packages
Packaging of chemical waste (make-up remover and turpentine)
Blister strips of medication and chewing gum
Medical waste / home care (plastic gloves, injection needles and infusion hoses)
Tip!
"In order to properly separate the plastic, it is important to put the plastic packaging waste empty into a bag in the container."